Changing control mode and centering of Futaba T6EXAP RC transmitter
Mikael Willberg
2.2.2011
English, Suomi
1
Projects · Hacking
Hardware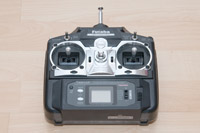 I bought a Futaba T6EXAP RC transmitter from Asia and noticed that it was setup for controls mode 1. The control modes affect how the controls are assigned to the sticks. There are four different ways how they can be setup. The most popular ones are mode 1 and 2. Personally I find the control mode 2 more natural and wanted to use that. Achieving this was not a trivial operation.
The following table lists all different control modes.
Left stick
Right stick
Up, Down
Left, Right
Up, Down
Left, Right
Mode 1
Elevator
Rudder
Throttle
Aileron
Mode 2
Throttle
Rudder
Elevator
Aileron
Mode 3
Elevator
Aileron
Throttle
Rudder
Mode 4
Throttle
Aileron
Elevator
Rudder
Configuring the control mode
Turn off the transmitter
Hold Mode and Select keys and turn on the transmitter
The current mode is displayed, change it with the "+, -" selector
Turn off the transmitter
Changing the auto centering
Normally the control sticks have automatic centering for all movements except for the throttle movement. When the control mode is changed the automatic centering must be changed accordingly. The problem I had was that the throttle is auto centered and elevator is not and this the opposite what it should be. To correct these issues the transmitter must be opened.
The centering part consists of a spring and a plastic rocker arm, the ratchet is just a metal strip and a screw. For my modification I needed to exchange them from side to side.
And done.
To use the controller for more creative use, the ratchet and rocker arms can be freely added or removed. The replacement parts might be a bit hard to find.
1 Comment
Commenting is not currently possible